Remodeling your restroom
The bathroom. What can you say about that one room that everyone needs and uses? It may very well be the busiest room in most homes, which means it gets dirty faster, it wears out faster, and yet, we want it pristine and presentable. And that may lead to a bathroom remodel. 
Any homeowner faced with a bathroom remodel decision will have many questions, typically, the most popular question is, how much will it cost to remodel my bathroom? Especially when budget is a main concern, but it can all depend on how big the bathroom is and how elaborate you want this bathroom remodel.
In Southern California, a bathroom remodel can be more expensive than an average home in Oklahoma. Experts estimate that the cost of a bathroom remodel in Southern California can be anywhere between $14,000 and up to $18,000. But again, this can all depend on the size of the bathroom and the level of elaborateness.
So, what is the cheapest way to remodel a bathroom? If you know the time is coming soon as to when to remodel bathroom, start planning now – that is the first step in doing this as cheap as possible. Pre-planning does a lot and if you can afford a consultation with a designer or architect for the more elaborate bathroom remodeling job, great!
With a plan in writing and drawings and working with a professional that knows how to plan bathroom remodel, you can be assured that you have realistic dreams of your bathroom remodel that your budget and timeline can meet.
How can I save money on my bathroom remodel?
Here are other steps after the pre-planning that you can do to save money on your bathroom remodel:
Don't Move The Electrical or Plumbing: Two of the most expensive things you can do in a bathroom remodel job is move the electrical and the plumbing. Every time you move a piece of plumbing, you're looking at a $5,000 cost. 
Frame The Mirror: If your current bathroom has a built in mirror (maybe it was tiled around it), instead of moving it, dress it up with a fantastic frame. 
Don't Toss the Toilet: Unless there is logical plumbing reasons, instead of replacing the entire toilet, just upgrade the seat and lit. That will save money on the toilet and hiring a plumber. 
Salvage Finds: Antique stores, resale shops, and salvage yards are gold mines for bathroom remodeling budgets. What was once a pricey piece can be found at a bargain and made into your bathroom remodel focal point. These are the places to find that unique piece that will make the vanity the envy of your visitors. 
Don't Tile It: Tile has been the long standing tradition in bathrooms, but it doesn't have to be!  Consider using reclaimed wood panels, beadboard, or board and batten. This will make your bathroom more warm and comfortable, and while it may need more maintenance, it will give your bathroom remodel that specialness. 
Open Concept Shelving: The bathroom needs to be private, but the shelving can go with an open concept, making the space seem larger without moving any walls. Open shelves, wicker baskets and you got a spacious and colorful bathroom! 
Light It Up: Builder-grade lighting rarely has much aesthetic appeal and is typically the first thing homeowners want gone when they plan their bathroom remodel. A bathroom should have a lot of lighting and that can be done on a budget. Adding lots of light to a bathroom is one of the most valuable changes a homeowner can Shop the discontinued shelves at the big box home improvement stores, even if it is last season's lighting! 
Punch With Paint: Even the smallest area painted a colorful pop will do a lot for any bathroom remodel. You can match to your existing tile or go offbeat with something totally opposite and contrasting. 
Other things you can do to get a big change for little money is shop second hand stores for the countertop to go on that unique vanity you're creating. If tile is what you want, shop the resale shops and the discontinued aisles for leftovers, even shopping online you'll find some great deals that will you're your bathroom remodel that unique touch.
What is the best color for a bathroom?
For small bathroom, stay with bright and light colors. They reflect light and will make the bathroom seem larger; white is always the first suggestion by designers. For a larger bathroom, there are other colors that can work with a bathroom remodel:
Charcoal.
Creamy White.
Light Blue.
Light Green.
Pistachio.
Soft Gray.
Taupe.
How much does it cost to replace a tub with a shower?
For a bathroom remodel that includes converting the bath a tub to a shower, you can expect to budget no less than $6,000 and the more accessories and add-ons you choose, up to $10,000. These are ballpark costs and should include materials and labor.
Can you remodel bathroom yourself?
If you're a handy DIY homeowner, sure. Until it comes to the electrical and plumbing, and even if you have the confidence to this yourself, there are ordinances that require permits and inspections. Cities typically will require a certified and license contractor with insurance for permits.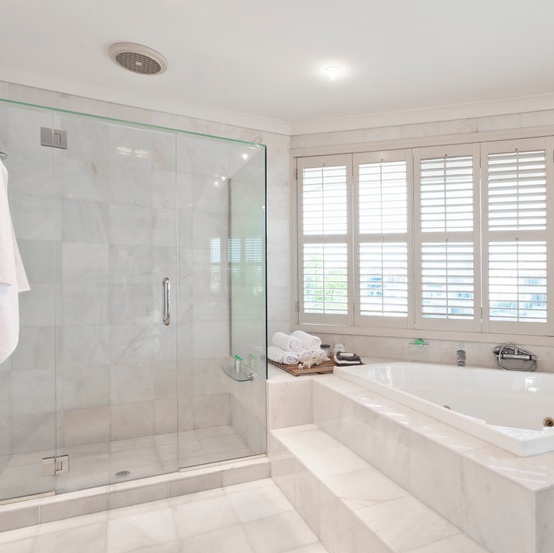 Is bathroom remodel worth it?
Are you doing this for your own benefit? Yes, if you're getting more room, more functionality, and a bathroom remodel is needed. Are you doing this for preparation to resell your home? The National Association of the Remodeling Industry states that you'll recover up to 50% of a bathroom remodel if it is done properly.
In either case, for your own use or for resell, the most important things to pay attention to for ROI value is replacing the outdated and worn items, updating the fixtures and lighting. A bathroom with more functional space is always a bonus. Call (310) 454-2010 today for your bathroom remodel in West Los Angeles, CA.