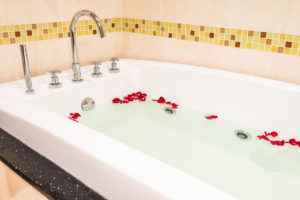 Your bathroom should be more than just a place to shower and "do your business". It may seem silly to spend money on your bathroom but there are very good reasons why you should consider a bathroom remodel.
Create a Soothing Space.
In an ideal world, we'd all be able to go on a vacation whenever we needed to, or at least take a personal day. Unfortunately, we don't live in an ideal world and most of us don't go on vacations regularly- but we can make a little personal oasis for ourselves. Remodeling your bathroom can turn your old bathroom into a beautiful, relaxing oasis. The average person spends up to a year and a half of their lives in the restroom- why not make that time better? Installing something as simple as a new shower head, or as advanced as a spa level bathtub can transform your daily bathing routine from mediocre to luxurious.
Add Value to Your Home.
In addition to making your own oasis, a bathroom remodel can add an amazing amount of value to your home. If you're thinking of selling your home eventually then updating your bathroom can make a drastic difference in the asking price. Fixing defective pipes and fixtures is only part of the whole remodeling process. New fixtures and luxury additions like garden tubs and full body shower panels can turn your bathroom into a showpiece.
If you're looking to add value to your home, or to create an in-home oasis through a quality bathroom remodel call Southwest Plumbing & Rooter at (310) 454-2010 today!