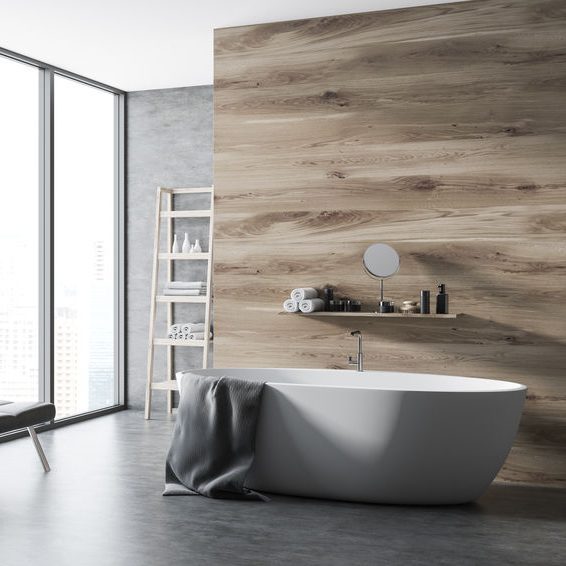 Your Dream Bathroom Awaits!
A bathroom remodel and style update will do wonders for your home! Other than the kitchen, this room is one of the most used rooms in your house. It is used every day, all day, and to have the style updated so that it is adapted to fit the needs of your household today can increase the value as well as make it flow better for your needs and use.
With a bathroom remodel on a budget, you need to get the most you can. So, you don't need to waste money, space, or time on any bathroom remodel ideas that won't fit your household. Before you begin, the first step is to look at the different bathroom remodel and design ideas and the make it so that it is the best fit for your budget, needs, and most of all, space.
How can I remodel my bathroom for cheap?
When you have a budget that must be maintained for a bathroom model project, the first thing you should do is create a bathroom remodel to-do list. Break it down by the things you need, the things you want, and the extras you'd like to have if budget, space, and time allow. Here we offer some suggestions on getting the most from the tightest bathroom remodel budget:
Limit the Tile
Tile gets expensive, especially if you're going to hire a contractor to install it. If you want tile for the artistic beauty it adds, use it on areas that will make a high impact, like only on the floor or have one strip going across the wall horizontally with matching paint(s) above and below.  Or purchase a few tiles that have an artistic touch and scatter them throughout the bathroom.
The Countertop and Vanity
Granite is still a popular trend today, and because it never looks old and is a durable material, we understand that popularity. But when you're doing a bathroom remodel on a budget, a granite countertop will be a huge splurge. In the world of bathroom remodeling though, it is a small investment that will give you beauty, longevity, and value-add.
So, how and where can you get the most from this splurge for your bathroom remodel project? The color of the granite you choose should be neutral, but consider steering away from the browns, light beige, and tan. Those are the most popular, hence, the most expensive. There is a wide swath of colors within those groups that will give you that same look for less money.
Granite is a natural material and slabs will always have imperfections. Choose a countertop that has visible the imperfections you can work with and it will be the cheaper of all the others. Remember the faucet and sink will be taking up much of the counter space, so those imperfections may not be as visible.
Another budget saver for a bathroom remodel is using old dressers for the vanity. Just cut the appropriate size hole in the top for the sink and faucet, remove any drawers and cut to fit around the plumbing and you have a vanity for cheap that would cost you hundreds, even thousands of dollars to buy.
The Paint
The cheapest bathroom remodel thing you can do is repaint. It is an inexpensive and effective way to get that fresh, new look for your bathroom. It also can take some time, so plan accordingly. In addition to choosing good, high-quality paint and buying plenty of is, make sure you stock up on painter's tape too!
Keep in mind that the bathroom has a high moisture content where mildew and mold develop and grow. Choose a satin finish paint and don't forget to paint the ceiling! There are paints made for bathrooms that are resistant to mildew and mold. They are more expensive but well worth it.
And don't forget to freshen up the caulk and gout. Too many people overlook this detail and it makes a world of difference in how clean, fresh and new your bathroom will look when freshened up. This is an inexpensive part of to a bathroom remodel job too!  
Fixture Updates
Cabinet and drawer handle, light fixtures, sink, and tub faucets, towel racks, and even toilet paper holder are the little details that can cost big. But the big difference that will make for your bathroom remodel is so important. Find what you like at the local big box store then surf the internet for them, or something close, and you may find them for a lot cheaper.
Redo or Buy Used
Replacing the shower or tub is not going to be cheap, so get quotes on having them professionally relined. From the shower to the sink, even the toilet or tub, consider buying used to save money on your bathroom remodel. Even the doors and mirrors can be bought used from online sites, Goodwill, or Habitat for Humanity ReStore. Upcycling is a major trend today and can be a money saver.
Upgrade with Green
No, we don't mean go green with your color scheme, unless that's your decision, but we're talking about environmentally. If you're going to buy a new toilet, get the low-flow style and choose faucets and showerheads that are designed to conserve water. They may be more expensive to buy, but the saving you'll make over the lifetime of your bathroom remodel will pay off.
And when you buy used materials and repurpose them as we've mentioned here, you're keeping stuff out of the landfills which is better for the environment. Look online how to turn an empty mason jar into a liquid hand soap dispenser! And using old, vintage cans for your brushes, combs, toothbrushes, and toothpaste will give your bathroom remodel that finishing touch.
How do you redo a small bathroom?
In every home, the bathroom is valuable space, and when it is a small bathroom, it is even more valuable. Many homeowners that want to redo a small bathroom remodel job quickly find out that it isn't necessarily cheaper than a larger bathroom model job. Why? Because you need the same elements and functions – you just have less space to get it all in.
Here we offer 10 tips for designing the best bathroom remodel ever for a small space:
A corner sink is a space saver for small bathroom remodels.
Shower curtain or sliding shower door instead of hinge pivoting door.
A rounded corner vanity is safer, less bruised hips or banged heads if there are kids in the house. And a trough-style sink is low profile and wall-mounted faucet will give you more floor space.
Counter extended over the toilet will give you more counter space.
Go with large patterns and wide stripes to make your small bathroom remodel look bigger.
A mirrored wall will provide the much-needed mirror and make the bathroom look larger too.
Use the door for mounting a towel bar saves space and is easy to reach from the sink or shower/tub.
An open shelf vanity will give you more space whereas doors that swing open take up space.
Can you put hardwood in a bathroom?
You can, but with caution, and if your considering carpeting or hardwood flooring for your bathroom remodel, hardwood is the better choice for sure! There are problems in choosing hardwood for a bathroom though, such as moisture kills. Because the bathroom is a humid room, moisture will keep the hardwood. So, choose an engineered hardwood if your bathroom is spacious and well-ventilated and has light traffic.
The faux hardwood is an excellent choice for bathroom remodels. They are almost indistinguishable from actual wood, will match the rest of your home and choosing a wood-like ceramic or tile is an excellent alternative.
Another great choice for a bathroom and is thinking outside the box of bathroom remodel jobs is using treated decking wood. This is material that is treated to survive moisture and outside elements – what could be any better for a bathroom?!
Do plumbers install bathtubs?
If your bathroom remodel job will include either replacing the existing tub or installing a new tub, it is going to be a labor of intensity, patience, and time. So, if none of those things are in your DIY wheelhouse, then, spend the money on hiring a professional.
An experienced professional carpenter, contractor, or plumber will have the experience and knowledge on how to fit the tub through the door, level it, and install the plumbing, including your heartfelt, well-chosen faucet and/or showerhead.
Should I remodel before selling?
There is no doubt that bathrooms and kitchens are what make a house a home. But if you're planning on selling your home in the near future, you want to get the most ROI out of it, and spending a lot of money and time focused on the bathroom remodel may not get you what you expect, need, and want when it sells.
A bathroom remodel will increase the value but stay with a minor renovation like a new countertop and new faucets. A fresh coat of paint applied correctly and neatly, aka, use painter's tape, will give that overall fresh look that buyers want.
Budget the patience and stress along with the finances for your bathroom remodel job! If this is the only bathroom, plan for alternate ways to use the toilet and bathing. Consider it outdoor camping! Maybe consider making room in the budget for one night in a hotel during the process where you live in a civilized manner with creature comforts. And make sure you start with an abundance of patience – you're going to need them! Call (310) 454-2010 today for bathroom remodeling services in West Los Angeles, CA.