Faucet Leak Repair in West Los Angeles, CA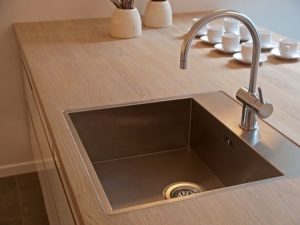 Leaking faucets are annoying, and trying to find the cause can be stressful. The age and quality of your faucet will determine whether it is better to repair it or do a full replacement. Higher quality faucets are pricey, and it is not cost effective to replace them. An older, low quality faucet is liable to continue having a problem with leaks, meaning it will require frequent fixes. We will inspect the fixture and recommend whether it would be more affordable to replace a faucet that will need future repairs. Dealing with a leaking faucet in the West LA or Pacific Palisades, CA area? Contact us today to schedule an inspection or learn more about faucet leak repair. (310) 454-2010
Our plumbers have years of experience with high end plumbing brands made here in the United States or internationally. These expensive fixtures can be difficult to fix without knowledge of how they work, which is why lots of plumbers will avoid working with them. We won't run from a challenge, though. The experience we have gained throughout the years makes it possible for us to find the best solution for any plumbing fixtures.
Your Faucet Leak Repair Experts
Sunset West Plumbing & Rooter is available for faucet leak repair in West LA, Beverly Hills, and Bel Air, CA. Don't ignore a leaking faucet! A slow drip from the faucet may not seem like much, but can actually add up to the point that you are losing over three gallons of water each day. You can save a lot of money on your monthly water bill by getting it repaired. Our team of highly trained plumbers have been providing reliable plumbing service since 1989. Call us today at (310) 454-2010 to learn more about our affordable plumbing services and the honest solutions we can give you to get the plumbing in your home in the best shape possible.
Jim Papik
Tighten kitchen faucet. Repair bathroom basin.
Jim Papik
Replace basin faucet shut off's and supply's. Replace bathroom basin stems.
Jim Papik
Tighten drain fitting to specific torque under kitchen sink to stop leak.
Jim Papik
Replace bar sink supply tubes. Cap off unused ice maker line. Adjust bathroom tub trip lever. Install new guest bathroom waste and overflow. Replace guest bathroom leaking shower drain fittings.
Jim Papik
Repair gym bathroom leaking shower valve.